TESTIMONIALS
Parents Name: V. Purandase
Campers Age: 6
Testimonial: Parth just loves it. Thanks for taking good care of my kids.
Rating: 5/5 Stars
Parents Name: N. Sampson
Campers Age: 6
Testimonial: The camp is great. He always came home with lots of stories about staff and he made a lot of friends this year. He will be attending next year.
Rating: 5/5 Stars
Parents Name: V. Puradare
Campers Age: 10
Testimonial: Very nice activities. Well planned and interactive. Friendly counselors. My kids love it.
Rating: 5/5 Stars
Parents Name: A. Roberson
Campers Age: 9
Testimonial: Ethan loved the camp! As a parent, I would love pick up time to be extended to 7pm due to work.
Rating: 4/5 Stars
Parents Name: R. Graham
Campers Age: 7
Testimonial: The girls love coming to camp, so much! They have enjoyed their counselors and met several friends. The field trips have been a great variety and we are looking forward to next year already!
Rating: 5/5 Stars
Parents Name: Y. Galarza
Campers Age: 6
Testimonial: He truly enjoys coming here every day.
Rating: 5/5 Stars
Parents Name: S. Elefante
Campers Age: 6
Testimonial: Isabella absolutely loves the camp! She wakes up eager to get to camp right away. She told me she wants to come back next year!
Rating: 5/5 Stars
Parents Name: L. Freeman
Campers Age: 7
Testimonial: Good experience for the most part. Odd that I never met my childs teacher, otherwise no complaints.
Rating: 4/5 Stars
Parents Name: A. Ali
Campers Age: 7
Testimonial: Very nice summer camp, very nice staff and great people to deal with.
Rating: 5/5 Stars
Parents Name: M. Romen
Campers Age: 7
Testimonial: Great Camp.
Rating: 4.5/5 Stars
Parents Name: B. Sanders
Campers Age: 7
Testimonial: He's having a great time. I love that he's still reading and keeping up with that. We also love the field trips and all the new friends he's making.
Rating: 5/5 Stars
Parents Name: C. Kaleel
Campers Age: 8
Testimonial: Maurice enjoyed himself so much. He already says he'll miss his friends when camp is over. The staff has been extremely helpful and kind to me!
Rating: 5/5 Stars
Parents Name: J. Quinn
Campers Age: 8
Testimonial: My son, new to Jacksonville, FL has truly loved his time here at BMYD. The staff is so nice and caring to the children. My son wakes up daily ready for camp. Will be returning next summer, but will love to have camp run into August.
Rating: 5/5 Stars
Parents Name: L. Stewart
Campers Age: 7
Rating: 5/5 Stars
Parents Name: C. Matthews
Campers Age: 7
Rating: 5/5 Stars
Parents Name: S. Myers
Campers Age: 9 & 6
Rating: 5/5 Stars
Parents Name: B. Lucas
Campers Age: 6
Rating: 5/5 Stars
Parents Name: J. Wikinnan
Campers Age: 8
Testimonial: So far I've had no issues with the summer camp. The price is affordable than most other camps which helps out a lot. We will probably be using Bright Minds next summer.
Rating: 5/5 Stars
Anita – I think this is a wonderful program that you have brought to Bradford County. Hope to see it continue.
Latessa – Overall I think the camp was great. My child, Ivy, was very nervous about attending on her first day of camp. She does not go to school in the Bradford County district so therefore her chance of already knowing any of the kids was very low. After attending the first week she seemed to enjoy the camp very much. I think the friendly and warm-hearted camp counselors played a major part of my child being comfortable at the camp. This made me feel good about leaving her in the counselor's care and choosing this camp for her. Overall I was very pleased with this camp and I would definitely enroll my child next summer.
Sabrina – The girls are still talking about this program! They had an excellent time and were able to experience many new things. The staff was EXCELLENT and they treated my girls like family. They showed genuine interest and care and Jason did a great job of making sure things flowed smoothly. Justin and Takela were great counselors, especially Tekela who was able to show patience with a rather difficult Daijah. The price is great, and the field trips were cost effective. PLEASE CONSIDER COMING TO ALACHUA COUNTY!!!!! We look forward to next year!!
Brandi – Good morning! This was the first year my son attended the camp. He enjoyed it very much. I loved that he had somewhere to go different from just a daycare. Our camp experience was good. The staff from morning to afternoon were all very nice, fun, helpful and informative. Thank you for bringing BMYD camp close to our home!! My son will be attending next year 🙂
Parents Name: S. Hall
Campers Age: 6 & 7
Testimonial: I have had a great experience with Bright Minds Summer Camp for the summer of 2017. My son has loved every day he goes and doesn't stop raving about how he can play sports every day. My son is very energetic and it is nice to know he is able to participate daily in physical activity. I am also thankful for the weekly focuses to help instill values in our young children today.
The staff is always warm and welcoming even when you know it has been a bad day. You can tell the camp counselors and teachers are always caring and professional.
My son will be attending this camp every year they offer it! I can't give enough great feedback on my experience with Bright Minds Summer Camp.
Rating: 5/5 Stars
Parents Name: J. Owens
Campers Age: 7
Testimonial: It's affordable, convenient and keeps William active during the summer time.
Rating: 5/5 Stars
Parents Name: Rick and Chanda
Campers Age: 12, 10 & 10
Testimonial: One again we have been blessed with the opportunity to have our children attend BMYD summer camp. We are very thankful for this program, the site director, staff and community partners that work to impact the lives of children.
Rating: 5/5 Stars
Parents Name: C. Edenfield
Campers Age: 12
Testimonial: This is Anna's 3rd year at camp and she's still enjoying every day! She has made lifelong friends and continues to make new ones! Ms. Wanda, Ms. Velma, Coach Battle and Ms. Taneshay, Thank You!
Rating: 4/5 Stars
Parents Name: M. Foster
Campers Age: 12 & 9
Testimonial: First and for most nothing is more comforting than knowing your children are in good hands. The staff holds themselves to the highest standards and it showed. The children enjoyed making new friends and all the activities the camp provided and we are looking forward to next year.
Rating: 5/5 Stars
Parents Name: Mark and Meghan
Campers Age: 12 & 8
Testimonial: Lots of kid's activities. My boys always have lots of fun with the other kids. I love that they open early and close late!
Rating: 5/5 Stars
Parents Name: L. Baskin
Campers Age: 10
Testimonial: BMYD camp has been a great program. Not only is it "play time" for the campers, they also continue to learn educational material that the campers can use in day to day living. The structures environment is always a plus. Thanks Instructors!
Rating: 4/5 Stars
Parents Name: K. Brown
Campers Age: 7
Testimonial: My daughter attended camp this year. She loved to come to camp everyday she talk about how much fun that she had.
Rating: 5/5 Stars
Parents Name: J. Leger
Campers Age: 5
Testimonial: We have two children in camp this year and both boys have come home and said how much fun they have had. They love the field trips that have been planned and the teachers are amazing.
Rating: 5/5 Stars
Parents Name: K. Potter
Campers Age: 13
Testimonial: Jackson loves camp. Everyone is very fun and professional, don't change a thing. He said it is amazing. Thank you for all you do.
Rating: 5/5 Stars
Parents Name: C. Seiling
Campers Age: 11
Testimonial: I like keystone BMYD camp because the staff is nice. Also because there are a lot of activities and games to do.
Rating: 5.5 Stars
Parents Name: R. Ekenbarger
Campers Age: 9
Testimonial: Camp is great. My daughter is having a blast. She enjoys field trips ad science activities. I like that she gets to practice math and reading in fun ways. She gets to do a lot for a very affordable price. We are glad BMYD is in Keystone.
Rating: 5/5 Stars
Counselors Name: B. Ludwig
Counselors Age: 17
Testimonial: I've been a counselor here for 3 years, and I've love it. Our counselors and instructors get along great and it is always fun getting to bond with the campers. What I love about our camp is that it is smaller than other, so everyone gets to know each other better. Our camp is like a family.
Rating: 5/5 Stars
Christina – We really enjoyed the Summer Camp this year at KHHS. Our daughter Lily attended the 5-6 year old class and had a blast. This was her first time. We LOVED her teacher Ms. Jones. I was really pleased with the tutoring that was provided throughout as well as the field trips and the Friday water days. Lily's summer was a great one filled with lots of fun and learning thanks to this program. She will definitely be returning next year.
Lisa – Very happy with this program and the staff was AMAZING! Would be interested in after school program for sure!
James – We love the program it's great. Our son was able to make new friends and grow mentally and emotionally and learn daily life skills, team work, kindness etc. His teacher Mrs. Jones was really great with him.
Audrey – Last year was Joshua's first year at Keystone and he had such a great time he wanted to come again this year. Not only did he come but this year also his brother Jasiah. Once again Joshua had a wonderful time and had some comments every day and really liked his group and Mr. Jackson. Jasiah had never had this experience before but could not wait to go each day and wanted to make sure he did not miss anything! They went on every field trip and each one was a great experience with so many things to tell me when they got home. I am so thankful that I was able to send both this year and it was worth every penny and I give God the Glory for providing. I like the memory book Mrs. Jones's class did and it will be a keepsake for sure! I also want to thank Ashley for all of her assistance and caring that she did.
Brittany – My son really enjoyed attending BMYD summer camp this year and will definitely be returning next year. We really loved Mrs. Jones who was in charge of the 5-6 year olds. Also, Mrs. Ashley the director, and Mrs. Swartzwelder the co-director were always very friendly and helpful. One of the volunteer counselors, Grace, was also very great with my son.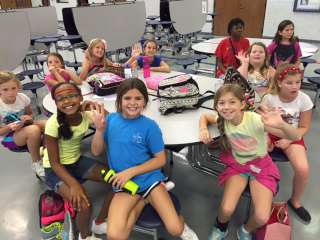 Kelly
– My son had so much fun this year at camp! He will definitely be returning next year.
Ashley – My daughters had a wonderful experience at camp this summer. I loved that they did not use any electronic devices all summer. Instead, they did what kids should be doing! They played games outdoors, played board games, interacted with friends, learned great life lessons, and came home exhausted every single day! They absolutely loved getting up and going to camp every day. I would highly recommend this program to any other parent!
Sam – My granddaughter loved her summer with Bright Minds Youth Development. I love how there was a new theme each week and she learned many valuable life lessons.
Kristen – This program has been a great program and I'm glad to see it coming to Keystone Heights. My son Jackson has really enjoyed everyone there and he speaks highly of the counselors there. He has enjoyed all the field trips as well. I love the fact that there is fun and learning to be done as well during camp. There is not a camp in the area that is as reasonable as this one and that provides field trips and hot breakfast and lunch. We hope to see you back next year.
Karen – My two grandsons attended the KHHS summer camp and I would highly recommend it. They loved the field trips and had a blast participating in the mini-camps!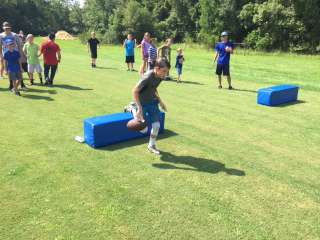 Julia – My daughter attended camp with BMYD and she had so much fun. She came home with many fun stories and I love that she was not allowed to bring her cell phone. I hope this program continues to stay in Keystone because we need it in this area.
Joseph – My kids attended the full summer and they had loads of fun from the first day to the very last. I would highly recommend BMYD to anyone out there. They offer a highly quality camp at affordable prices. No other programs offer anything like that.
Audrey – Mr. David Bright; I wanted to let you know how much I appreciated you starting this camp. It was definitely a blessing not only for Joshua but for me as well! He enjoyed it and had a lot of fun and learning experiences. Every field trip was educational and/or fun. If it were not for this opportunity I am sure he would have been very bored and having no one to spend time with would not have been a good option. Ashley was always there to answer questions either by email or phone and that was really appreciated. I liked the way Joe handled situations as did Joshua. Once again thank you!
Sarah – Our boys loved it and requested to come back next year. Thank you so much for everything!
Maria – This summer has been a great summer for them, especially with this being their first time coming to the program. I like that there was always some type of fun activity for them to participate in and learn from.
Laura – The girls had fun and really liked the talent show at the end of camp. They would be disappointed if there was not a talent show next year as they said it was their favorite part of summer. They liked the fire truck water day. Overall however the kids had fun, made friends, and the price is right.
Octavia – My son was only able to attend one week this year because he spent the summer with his dad in Oklahoma, but he really enjoyed the one week 1 August thru 5 August. I think the staff is friendly and always helpful. I'm glad you guys are working on the few kinks and I know you will be bigger and better next year. I love what the organization is doing for the community, hiring good people, low cost without sacrificing quality in the care, facilities or programs.
Melissa – This was the first year that Justin attended the BMYC. He has told me he really enjoyed going to the camp at the Oakleaf Jr-High School Location.
Traci – I liked how there were field trips and different activities for my child to do while in attendance.
Sandra – Please add my 2 boys to the list for next year. They have attended the Oakleaf camp for the past 2 years and love it. They can't speak enough about it, as well as, Coach Chris.
Janelle – Our experience this year at camp was a highly positive one. Our children have been participants for three years, and we are excited to witness the expansion of BMYD. We are excited for 2017!
Terry – This is our second year in your program. And we LOVE it. We attended the OJHS location. Mr. Littles is the best!!!!! And the staff and volunteers are AMAZING!!!!!! I can't think of anything to change!!! We are very pleased with how you run camp!!!! Carson would LOVE to attend again next year!!!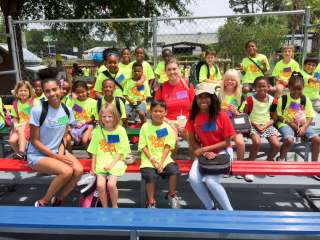 Kay – I just wanted to take a minute to tell you all how much we appreciate you, the teachers, the counselors and the student leaders this summer. It's sometimes hard to be parent, even when there's two of us to do the job, you have to make sure your children are being cared for by someone you trust and depend on. You guys have definitely hit the mark on everything! Every interaction we've had with you has been wonderful, I feel all our needs were met, and exceeded. Those young ladies up front were awesome! They made check in/out so smooth and easy. The teachers and counselors did their best making sure the kids were happy and taken care of. At pickup, whenever I asked my kids "how was your day? It was never just "it was okay", they always had a good story for me. Last, but not least Maya and Brady love you guys, they already say they can't wait til next year to come back, I feel the same way. Loved the talent show!!! Thanks so much for being there.
Erica – I just wanted to send you a short testimony and let you know that I have been very impressed with your organization and with the summer camp. Christian has had a great time, and you and the other staff have been responsive and professional. Everything has gone well with no hiccups for me and my family which is impressive considering the OJH camp is in its first year! And I am very excited about the talent show: Christian has been telling me all about it! Thanks again! I hope camp will be back at OJH next year and Christian can attend next summer too.
Jocelyn – My son absolutely loved this camp!!! He has gone to a camp every year since he has been in elementary school. But, this by far has been the best. He never wants to miss a day or be picked up early. Keep up the great work in Oakleaf. We look forward to having this camp in our community next year.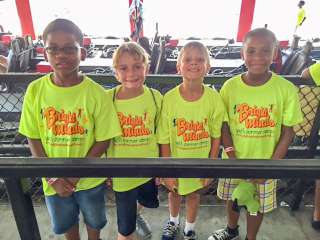 Jason – Thank you for the opportunity to share our family's extraordinary experiences during the Summer Camp program at OJHS 2015. Finding a cost effective and safe environment for three children had always been a daunting task. We've been blessed since first being exposed to BMYD after receiving a referral last year for summer camp. Our children enjoy the fun, active, creative, and expressive environment the camp offers. My husband and I appreciate the components of education, life skills, leadership, team work, and the valuable personal connections with peers, teachers, and teen volunteers. Though the summer is winding down, and a new school year is just around the bend, our children are already fired up for camp next summer. We are excited to witnessing this movement soar! BMYD programs are an integral part of our family unit, but is also quickly embedding itself as a staple in the community as a whole. We appreciate all you do!
Peggy – I would like to take this opportunity to thank you, Coach Littles and the staff at Oakleaf Junior High School for the summer camp program and field trips. Elijah has totally enjoyed summer camp and because the pricing has been kept low, he was able to go for 5 weeks. He has already asked about Christmas camp. I know that this was the first time at Oakleaf Junior High and hope that it has been such a success that you will be able to bring it back there again.
Parents Name: L. Turner
Campers Age: 5
Testimonial: Weston has loved coming every day. We love it and hope he comes next year.
Rating: 5/5 Stars
Parents Name: J. Matos
Campers Age: 6
Testimonial: My children really enjoyed attending camp this year. Excellent program and staff.
Rating: 5/5 Stars
Parents Name: A. Higgins
Campers Age: 10 & 12
Testimonial: Both kids seem to enjoy it.
Rating: 4/5 Stars
Parents Name: H. Thronton
Campers Age: 9
Testimonial: Launa, Launa's mom and I have enjoyed the camp experience here at Oceanway Day camp from the daily activities, field trips (which were educational and fun) to the camp staff they are wonderful.
Rating: 5/5 Stars
Parents Name: J. Hyman
Campers Age: 7
Rating: 4/5 Stars
Parents Name: N. Williamson
Campers Age: 8
Testimonial: He loves camp, everybody is friendly. He behaves better now that he is here.
Rating: 5/5 Stars
Parents Name: E. Pratt
Campers Age: 6
Testimonial: Friendly staff, kids have fun. I suggest putting T-Shirt cost into registration cost. Great Hours, I will recommend camp to family and friends.
Rating: 4/5 Stars
Parents Name: F. Patterson
Campers Age: 6, 8 & 9
Rating: 5/5 Stars
Parents Name: T. Sherman
Campers Age: 7
Testimonial: Thank you for all you've done. The staff has worked so hard to make this camp a great experience for the children. I am looking forward to next year, Lord willing.
Rating: 4/5 Stars
Parents Name: M. Castelvecchi
Campers Age: 7
Rating: 5/5 Stars
Audrey – My sons really enjoyed the weekly trips, the other children, and they felt safe with the staff. Great staff interaction and focusing on positive youth interactions. Thank you for accepting episcopal services because my sons really enjoyed which made it an easy summer for me. Next year, I have to make my own payments, but with the week to week option, it makes it more convenient.
Kathryn – My children absolutely loved the camp. It's a wonderful addition to our community. My kid's would ask to go even on the days they didn't need to.
Parents Name: D. Brown
This is my daughters second year attending the Bright Minds Youth Summer Camp and it is the best fit for our family. We love the engaging activities that are planned throughout the day that help keep her mind sharp for the upcoming school year. While I know the summer is supposed to be a break, I prefer to have my daughter engaged with other kids, learning life skills, etc. instead of her sitting in front of a television all summer. She has made many friends while attending this camp. The field trips are always places she enjoys. The six o'clock start time works great with our early work schedules. The location is in the same area as our younger child's daycare which a major positive for me. One of the best features of this camp is their dedication to my child's safety. Since both my husband and I work, it's important that we know our children are safe when we leave them. It is the friendliness, professionalism, and caring attitude of the staff that will keep us coming back to Bright Minds as long as they will have our family.
Parents Name: Brandon D
We have been taking my kids to Bright Minds Orange Park for 3 years now and I can't think of a better more suitable place for my children. Over the summer my kids love the counselors and the field trips and activities. I would recommend this camp 10x over.
Parents Name: R. Fowler
Summer camp here at S. Bryan Jennings has been fabulous for Logen. Its taught my son more manners and promoted teamwork. He's much more talkative and loves all of the friends he's made here.
Parents Name: Valerie L.
Bright Minds has been amazing throughout this whole camp. My son has tried several but we have not had much success. Not only do they continue the education throughout the program, but they find ways to make it fun. The field trips, game days and water days are all well planned and thought out. My son loves the teachers here. He days they really care and listen to him.
Parents Name: Adriane M.
As the summer comes to an end and we are starting to prepare for school. I can't help but reflect upon the absolutely amazing summer that Xionn had in the Bright Minds Youth Development Program, His experience was everything that we hoped it would be and more. He made wonderful friends and had super counselors. Everyone—thank you! Your leadership and organizational skills are truly inspirational. Your communication with me was always patient and helpful. We are already looking forward to next summer and can't wait for him to be back and experience another fulfilled summer at BMYD!